Upcoming Events 2017
I LOVE to Breathe with book groups, let's get YOURS on here!
December 2 – Association of RI Authors (ARIA) Fifth Annual Expo! Rhodes on the Pawtuxet, 11 – 5. I'll be spending the day with hundreds of local New England authors from middle grade to horror to science fiction. Last year I loved meeting so many readers and speaking on a memoir panel, which I'll be doing again!
News and Events from 2017
October 31 – My essay, "Swimming Through My Tedx Talk" was published and is available here in the new Chicken Soup for the Soul, Stepping Outside Your Comfort Zone!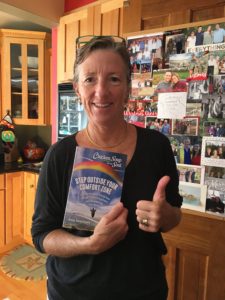 October 24 – Presented to third year medical school students at U Mass Med School on the topics of grief, death, stillbirth prevention, and baby loss after they read Breathe. This is a goal I've had for these three years post-publication. Check!
July 28 – 30 – At the 2017 National Conference of The Compassionate Friends in Orlando, Florida, I presented a workshop with my husband, Andy, on Infant and Toddler Loss in honor of our son, Noah, on the 20th anniversary of his death, and another workshop with  Ann Walsh on Loss of a Child Due to Miscarriage or Stillbirth.
July 5 – Chicken Soup for the Soul Communique:
Dad and I made the communique cover after I submitted a father's day story about how he supported my writing career and won 5 different Chicken Soup for the Soul books about fathers and daughters.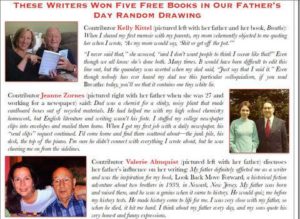 June 28 – We Need Not Walk Alone, The Magazine of the Compassionate Friends: Honored to have my essay "How Many Children Do You Have?" published HERE in the Spring/Summer 2017 Issue.
June 21 – 23 – Poster presentation: "Why We Should Share Our Stories" at the 3rd Stillbirth Summit in Minneapolis, Minnesota with the world's leading researchers in stillbirth prevention and parents from 7 countries and 26 states
May 13 – Honored to have my essay, "Why We Should Share Our Stories" published HERE in Women Writers, Women's Books.
April 24 – "Meet the Writers of the Ocean State," Warwick Public Library ARIA book event, 10 – 4.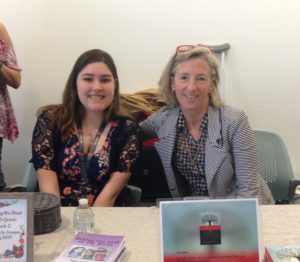 February 18 – "Local Authors Corner" at the Newport Winterfest celebration in the Newport Visitors Center. Fun day with authors and friends!
January 13 – Fun hour on WADK with Gail Alofsin on her show – Leadership at ALL Levels – discussing Resilience, New Beginnings and Insights on Life to kick off the new year along with Kim Fuller and Brian Heil. Have a listen here!
News and Events from 2016
December 3 – Association of RI Authors (ARIA) Fourth Annual Expo! Rhodes on the Pawtuxet, 11 – 5. Fabulous day with hundreds of local New England authors from middle grade to horror to science fiction. Loved meeting so many readers and speaking on a memoir panel. Watch for the event next year!  
November 5: I DID A TED TALK! SO EXCITED to be one of 13 speakers chosen from 60 applicants for the inaugural TEDx Newport event at Jane Pickens Theater! Presented a performance-based talk called "Why We Should Share Our Stories" concluding with 16 dancers from Erin Rae's performing "Epilogue" under the kick-ass direction of Miss Pam Mateus. We closed the show and left very few dry eyes in the house. I've had this in the back of my brain on my list of things to do for six years! It was Amazingly Awesome! Read the blog here. Watch the talk here!
October 15: Signed books at the Boston Book Festival in Copley Square at the IPNE tent.
August 1: Honored to have my essay, "Epilogue" chosen for inclusion in the forthcoming anthology, The Magic of Memoir, Inspiration for the Writing Journey! Available on November 16.
July 14: Honored to have my essay, "What Goes Up", published in the anthology, Shoreline, Selected short fiction, non-fiction, poetry & prose from The Association of Rhode Island Authors.
July 14: Fun interview/conversation with Kevin Tumlinson on Wordslinger, "Learning to Breathe with Kelly Kittel".
July 8 – 10: Presented two workshops at "Hope Rises on the Wings of Love", The Compassionate Friends 39th National Conference in Scottsdale, Arizona. Co-hosted the Miscarriage and Stillbirth Loss Workshop with Ann Walsh and led a workshop on Infant and Toddler Loss. Also facilitated two sharing sessions, one on Losing your Child to Medical Error and another called The Things We Carry.
June 11: Author Meet and Greet at the Tiverton Library with 25 of my fellow Association of Rhode Island Authors (ARIA) in conjunction with the Tiverton Public Library first anniversary celebration of their grand opening.

May 6, 2016, Presented a National Association of Memoir Writers (NAMW) Webinar entitled, "Not the Brady Bunch: Writing Difficult Stories About Difficult Families" to over 80 listeners as part of the free 2016 Spring Memoir Telesummit on "Breaking Through—Writing the Forbidden Stories in your Memoir."  You can listen here.
May 4, 2016: I was honored to be the keynote speaker at the 40th Annual NAPSW Conference where 100 attendees enjoyed the performance of Epilogue after my speech!
April 9:  We were so excited to be guests on the Open to Hope television show on January 23 but Winter Storm Jonas had other plans! So we'll be taping a mother/daughter show with Hannah (and Bella?) in NYC studio with the fabulous Horsley women some time this fall, we hope!
March 18: And watch Epilogue, the dance, here!
February 4: Read this amazing article in the Portsmouth Times about Bella's dance studio performing to a voice-over I wrote based on Breathe! Gobsmacked!
January 27: Wonderful afternoon with the lovely Barbara Baynes Book Club, Jamestown
January 26: Listen and watch this YouTube video of my radio interview with the fabulous Drs. Heidi and Gloria Horsley! Looking forward to seeing them in April to be a guest on their tv show!
January 26: Read this great interview on Book Club Babble with my fellow Ocean State Author, Tabitha Lord Jorgensen! Thank you, chica!
News and Events from 2015
December 5 – 10: Writing retreat in Costa Rica, finished first draft of next book! Pura Vida!
November 13: Fun birthday interview with my fellow author from across the pond, Virginia Macgregor! She asks great questions! Read all about it here . . .
November 4: Guest blogger on fellow RI Author, Martha Reynolds! Read my post about banning the balloon, "What Goes Up . . ." here!
November 2: Honored to be the guest of Drs. Gloria and Heidi Horsley's Open to Hope Radio Show, stay tuned for link to listen to "Learning to Breathe Again"!
October 20: Gobsmacked by this amazing review of Breathe by Wendell at griefHaven. "This book is a page turner because it is a classic that will, hopefully, live on as it continues enlightening people for generations to come." Amen.
October 17: Thrilled to make my debut on Modern Loss with this essay, Two Truths and A Lie, starring Bella!
October 15: Loved being a guest on the radio show, Giving Voice to Your Courage, with my fellow SWP author, Dorit Sasson! Listen here!
October 7: Honored to have Breathe chosen for the very first book review on the online literary magazine, Mothers Always Write!
September 28: Honored to represent my Ocean State with this Essay about RI in 50 Authors in 50 States with Annette Snyder, Whiskey Creek Blog.
September 27: Breathe is honored by IPNE, winning awards for Best Book and Best Narrative Nonfiction!
September 16: Fun half hour as guest on tv show, Be My Guest, with Jan Lewis. Watch it here!
September 8: Portsmouth Times Article about my essay, "Finding my Future" in Chicken Soup For the Soul Essay, Volunteering and Giving Back.
August: Essay, "Meeting My Future" published in Chicken Soup For The Soul, Volunteering and Giving Back
May 26: Click here for my Newport Mercury interview "Waiting to Inhale" with Bre Power Eaton in which she manages to wrestle our two-hour coffee into 1300 words!
May 21: Breathe is an Honorable Award-Winning Finalist in the "Autobiography/Memoirs" category of the 2015 Readers Choice International Book Awards!
May 11: Read this essay, "He Lives in You", published in the lovely online literary journal, Mothers Always Write.
March 5, Breathe Listed in Aspire Magazine Top 10 Inspirational Books for March
March 3-8, Breathe Amazon rank falls to 3 digits at #981! Also ranked Number One (!) for Books about Dysfunctional Families and Number One  (!) on Kindle for Books about Motherhood, Family, and Women's Personal Growth!
January 9 – Roberta Dolan's lovely Blog post about Breathe
News and Events from 2014
December 22:  Read this interview with my fellow SWP dynamic author, Liz Gelb O'Connor!

December 10: Listen to this podcast of my interview with Dr. Pamela Brewer on MyNDTALK radio!

September 26:  Read this wonderfully written review of Breathe in Peace Corps Worldwide!
August 19: Nice book review of Breathe online at Mamalode!

July 30: Listen to my WRNI/NPR debut on This I Believe here!

July 24: Read my essay, "Noah's Name" here on Scary Mommy.
June: Breathe is on a Blog Tour with many exciting stops all month long! Jump onboard and read what these bloggers all thought about Breathe-ing! Some of these reviews truly took my breath away.
May 14: Read my essay, "Dear Emily", posted on Scary Mommy.
May 11: Read my OpEd piece published on Mother's Day in The Oregonian.
April 4: Read about all my writing secrets in an interview with Laura E. Davis on her blog, Dear Outer Space!
Past Events 2014

Tell It Slant reading from Three Minus One on April 23 in Portland, Oregon. Together with Danielle Frandina for the first time in six years, since we met on the shores of Lake Atitlan in Guatemala at Joyce Maynard's writing conference. Also met fellow Three Minus One author Meagan Goelic for the first time!
Breathe Launch Party! Norman Bird Sanctuary, Middletown, RI, Saturday, May 10. Over 75 family and friends came out for the fabulous Breathe book launch party for a fun-filled afternoon of book readings and signing with Island Books, fun door prizes, sweet snacks, tree planting, and other breathing-related activities. 23 of us hiked to Hanging Rock afterwards and practiced our breathing!
Books on the Square, Providence, RI, May 22, 2014
Symposium Books – East Greenwich, June 5, 2014 with lovely owner, Ann Marie

 Grass Roots Books – Corvallis, OR, June 17 with 20 people! Thanks Claire!

Bank Square Books – Mystic, CT, July 9 Author Luncheon with 20 friends and family! Thanks, Annie!
Annual National Compassionate Friends Conference, July 11-13 – Chicago, IL. I spoke on three panels: Writing and Publishing Your Book, Sudden Death: Vehicular, and Multiple Loss. Had a great time selling and signing books with The Centering Corp. Read all about it here!
Miscarriage, Infant Death, Stillbirth Support Group, July 16 – Women & Infants Hospital.
Willamette Writers Conference, August 1-3, Portland, OR, After a one-year hiatus, I was so happy to be back! Spoke on a panel, Publishing: The Next 5 Years, served in a salon called "So You Want to be a  Memoir Writer", signed and sold books, worked the author line/met Diana Gabaldon and Justin Hocking and dined with Kelly Williams Brown and Ivan Doig! Met Che Guevara's nephew and a whole host of fabulous writers!
St. Jude's Hospital Fundraiser, August 10. I signed and sold books and Bella danced for this great cause!
September 19, Not Your Mama's Book Club, Portland, OR, great group of women! (who now know the state tree of Oregon!)
September 20, Literary Salon at the lovely home of fellow author, Susan Orlins.
September 22, Association of American Medical Colleges Book Group, loved it!
September 30-Oct 2,  New England Independent Booksellers Association 41st annual conference, RI Convention Center, Providence, RI
October 4, Cary Memorial Library, Wayne, Maine
October 17, 11 to Noon, Free Coffee and Free Books, Keurig 2.0 Cafe, 915 Broadway @ 21st St. in NYC with 12 SheWrites Press authors who gave away a whopping fifty-five signed copies of their books. A busy and fun event!
October 19-21, New England Library Association annual conference, Holiday Inn, Boxborough, MA
October 23-25, Boston Book Festival, Copley Square, Boston, Breathe was there but I was not!
October 25, NOON -3, Copperfield Books, San Rafael, CA
October 30, 6:30, Island Books, Wyatt Square, Middletown, RI
 November 21, 7 p.m. – Annual Service of Remembrance, Women & Infants Hospital, Providence, RI
I was honored to be this year's speaker at the annual service of remembrance for Miscarriage, Infant death, and Stillbirth (MIS). Both Isaiah and Bella were high risk babies born at Women & Infants and I'm eternally grateful to this excellent hospital for the priceless gift of having them both in our lives. Micah came along as my "banker" and it was a very memorable evening indeed.
November 29, Island Books, Middletown, I was honored to be a "guest bookseller" on Small Business Saturday as part of the Indies First Movement and was so happy to see how busy the store was.  Thanks to all who came out to shop and to chat with me and my fellow SWP author, Tory McCagg, about books we've read and loved! Books are truly the gifts that keep on giving.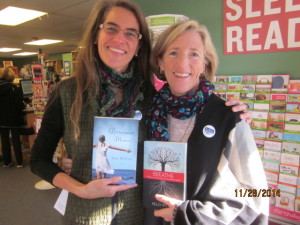 December 6, North Kingstown Free Library, North Kingstown, RI, 14 local authors talked about what we've been up to including Rachael McIntosh, author of Little Yellow Stickies; Jen Smith, author of Sick, A Memoir; Marjorie Harrison author of Coming Home; Gail Eastwood Stokes, and yours truly!
December 18, Lively Literati, The Elephant Room, fun evening, great venue! Maria Mutch, my fellow SWP author amiga, Tory McCagg, and Sylvia Webber had a lively night of literature!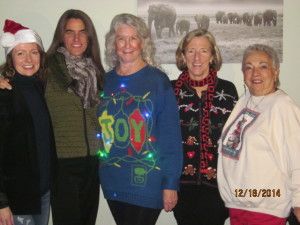 March 4, The Seasons Assisted Living in East Greenwich, 2 pm, lovely afternoon of Breathe-ing with the wonderful residents of this home! Looking forward to returning to Breathe with their book club!
April 14, URI OLLI Class Guest Speaker, Introduction to Independent Self-Publishing
April 28, Jean Burton Book Club, what a fabulous discussion with a book group that's been meeting since 1978! Wow!
April 30, Seasons Assisted Living Book Club, loved my time spent with these gals from Andy's generation!
May 28, I had a blast at BEA in NYC! Staffed the SWP booth PDZ668 with the fabulous Liz Gelb O'Connor and had fun with my fellow SWP authors! Met Jan Brett and Rick Bragg. Loved it!
May 30, Festival of Five, Newport Public Library, Fun afternoon with Tory McCagg, Judith Arnold, Rosalind A. Cuschera and Jane F. McCarthy discussing our writing, home life, and career goals. Read this interview with Bre Power Eaton in the Newport Mercury this week!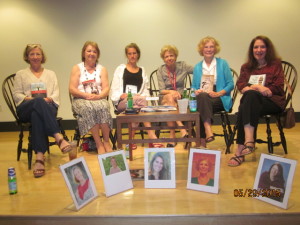 June 6, Breathe-ing in Waldport, OR, 4 pm, hosted by the Friends of the Waldport Public Library at the Waldport Community Center, 265 E Hemlock (Highway 34).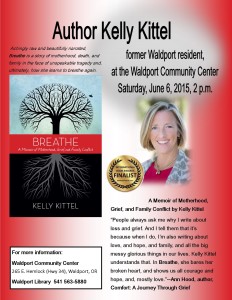 June 10, Grass Roots Books, Corvallis, OR, an evening of readings with Valerie Willman, author of Smell the Blue Sky: young, pregnant, and widowed, Melissa Hart, author of Gringa: A Contradictory Girlhood and Wild Within: How Rescuing Owls Inspired a Family and music by Betty and the Boy, 6-8 pm.
June 14, Chiseled and Breathing, author event with Danuta Pfeiffer, author of Chiseled: A Memoir of Identity, Duplicity and Divine Wine at Pfeiffer Winery, Junction City, OR, 3-5 pm. Read my interview with Danuta and my review of her fabulous memoir here!
June 22, Bryn Weymouth Book Group, 7 pm, Loved these ladies!
July 10-12, Honored to present a panel workshop on When Your Child Dies Due to Medical Error and co-host the Stillbirth, Miscarriage, and Early Pregnancy Loss Workshop with Ann Walsh as well as serving on a panel for Publishing Your Story at the 38th Annual National Compassionate Friends Conference, Deep in the Heart of Dallas, TX!
Dallas, TX.
July 22 – Only in Rhode Island Book Fair at Edward King House in Newport, 4-6 pm.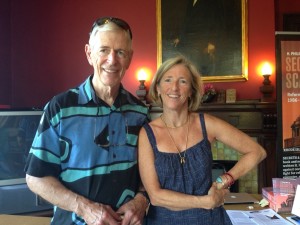 August 22 – ARIA Author Event, Barnes & Noble, Warwick, RI