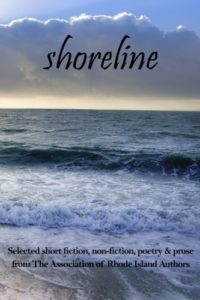 Shoreline is a compilation of essays, short stories, and poetry written by RI Authors. My essay, "What Goes Up", is about my latest attempt to make the world a better place by banning mass balloon releases.  Why? Because, as I say, "Balloons litter our shorelines. Their colorful ribbons once clenched by sweaty toddler fists unfurl across the sand like desiccated jellyfish tentacles. And this is one of the biggest problems with balloons—they look just like jellyfish to the critters gulping them down by mistake."
Even if you never read this essay, please, reconsider releasing balloons. What goes up, must come down.
Shoreline is available on Amazon.