Warning: This essay, if delivered as a TED talk, would be more like two TED talks so I'm glad I don't have to memorize it. I hope you enjoy the read all the same. It's probably of interest to anyone who is thinking about doing a TED talk or who is currently preparing their TED talk or who has done a TED talk or who was part of the first TEDxNewport event or who is a fan of TED talks or curious about TED talks in any way.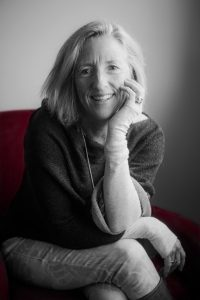 What is the surest way to get someone to binge watch TED talks? Select them to present one. Months ago, at the end of June, I was scrolling through my Facebook feed when I happened upon this news item: "Who Is TED and Why is He Coming to Newport?" It was from an online news website called "what's up, Newp?" and I clicked through to it immediately and read with interest.
Because wayyy back in 2009 I was sitting in my yurt on the coast of Oregon waiting for someone to tap my shoulder with their magic wand and transform me from fish biologist to author. And most likely I was wearing the hunter orange down vest and glittens that I wore to "work" every day because, yes, we lived in a tent and my husband bought me a glass desk, which was almost always cold. I'd been working on the manuscript of my first book, a memoir, for three years by then and we'd recently returned from living in Costa Rica where, conversely, I'd sat in my bikini all day learning how to transform real life into scenes with dialogue. I had what in hindsight would turn out to be early first pages, over 600 of them, and was drumming my half-alpaca-covered fingers on my icy desk trying to figure out what to do next when suddenly an email popped up from my oldest child, Hannah, who was a student at Georgetown 3000 miles away. "Alicia just wrote to me and said, 'your mom should do a TED talk!'" I had no clue who TED was or why he'd want me to talk but always welcome a diversion so I Googled it and thought, "That's nice. I wonder what Alicia thinks I could possibly talk about?" Then I tucked that whole idea away in one of the many folds of my brain, which just so happened to be the section most active at 3 a.m. when it jolts me out of a great dream, hollering, "Hey! Are we ever going to do that TED talk?"
But back to June. I clicked through all the tabs on the brand new TEDxNewport website and started copying and pasting. I learned that the theme was "Tides of Change" and read the description, which ended with, "tides affect other biological rhythms and give life to an intertidal ecosystem, an environment that exists between the high and low water lines, where organisms have adapted to life under constant change." Having spent a good part of my life in that exact intertidal zone, I was already kicking off my shoes and hiking barefoot along the damp sand. It continued, "Like the gravitational pull of the moon, there's a certain magnetism about Newport that draws many people here and pulls us back even after we've left." Bingo. Having spent my life leaving and returning to my island home, this was the perfect theme for me.
The deadline was in July and I dutifully submitted not one, but two ideas. I was ready to do a TED talk and I wanted in, whether I talked about the dance, Epilogue, or banning mass balloon releases. The notification date was the beginning of August, so when that came and went with no word, I figured I wasn't selected and carried on. Lo and behold, one month later I received an email from Alyssa, the organizer, with the subject line: Congratulations, you're a finalist! I opened it and read, "We received over 60 submissions and nominations, and your idea has made it to our top 25. We have 12 spots available for the event, and there's one more step before we make our final decisions." She asked that I provide a detailed outline in less than a week, ugh, then gave a little spiel about the time limitations of the talk and etc., asking that we reply in five days.
Even though I detest outlines, I was so excited, but, wait, which talk? So I fired back an email and a week later we chatted by phone while I watched my son's soccer game, deciding that I should present a performance-based talk along with the dance—Epilogue. I drafted up a quick outline, emailed it, then waited to hear if I was chosen. She promised to let us know who the 12 finalists were on Monday, September 12, but another week later we received an email saying, "I'm asking for your patience for one more day; I will call you tomorrow with the final decision. Thank you for thinking outside the box, and whether or not you're a speaker at this year's TEDxNewport, please continue pushing boundaries and engaging the community."
The next day, I was back at a soccer game when Alyssa called to say I was selected! Woo hoo! She followed up with an email introducing the speakers and we all signed our life over to TED, who owns all the content. The schedule was produced and supplemental materials sent and we were off and running. I had about one month to get my act together. Right away, the Newport Daily News wrote an article, "TEDxNewport Announces Upcoming Speakers", in which they revealed this about yours truly, "besides her career as an author, Kittel has taught Nature Day Camp at the Norman Bird Sanctuary in Middletown among many other activities." For some reason they opted not to mention my groundbreaking work at Frosty Freeze (where I showed such clear promise at age 12 by inventing the sundae on a spoon) or my actual, salaried career as a fish biologist, but I guess they know the "best words" to sell newspapers.
It would have been awkward to back out now, so I began my crash course in TED talks. I learned that TED has been around since 1984 and is broadcasted in over 100 languages around the world. The global TED community "aids in heightening awareness by unionizing like-minded and curious souls while giving them a place to gather." TED stands for Technology, Entertainment, Design and their tagline—ideas worth spreading—speaks for itself, the goal being to cultivate and share ideas. In the next days, I watched so many TED talks that now my 3 a.m. wake-up calls came with a soundtrack—the TED intro music complete with the magnified water drip and, yes, applause.
I started clogging up my FB feed by posting my favorites, #watchthis!, including this most excellent talk by Chris Burkard on "The Joy of Surfing in Ice Cold Water" (http://www.ted.com/talks/chris_burkard_the_joy_of_surfing_in_ice_cold_water) or "Inside the Mind of a Master Procrastinator" (https://pc.tedcdn.com/talk/podcast/2016/None/TimUrban_2016-480p.mp4) in which Tim Urban who, while also supposed to be writing his TED talk, admits to pulling up the map of India on Google Earth and zooming in to the bottom of the country, like 200 feet above the ground, and spending the next 2.5 hours scrolling up to the top "to get a better feel for India". And I could totally relate. I nodded with solidarity when he said that when he was invited to do his talk, he thought, "Yes, it's always been a dream of mine to have done a ted talk in my past!" Only now his dream had come true. I still had work to do.
I was learning. But I inadvertently took Tim's talk to heart, providing myself with SO many interesting distractions it seemed my goal was actually to earn a Masters degree in Procrastination. I read Google Alerts from Chile and crocodile updates from Costa Rica and availed myself of new breakthroughs in anti-aging. I battled pantry moths and bought moth traps and two pairs of boots on Amazon. I wrote two essays, submitted one photo to a contest, and turned in the manuscript of my next book to be edited. We went to Maine to pick apples and pumpkins, climb Mt. Pisgah, and help my dad close up for the winter. My friend's only child died in his 30's from cancer and my cousin ended his life at age 20. Another friend miscarried twins and 64 bereaved moms were added to the closed FB group for Miscarriage and Stillbirth that I co-moderate for The Compassionate Friends. All of these things filtered through my thoughts about my message. It was time to get to it.
I took seven pages of notes on how to write/give a TED talk and wrote eight versions of an eight-paged talk called Just Keep Swimming that, like this essay, was about twice as long as the allotted time. I sent it to Hannah and Christiana and the very same Alicia from paragraph two to edit as they gathered in Oregon to run a half-marathon. I traded edits with my friend, Kim, who was doing her own TEDx talk in New Bedford. All agreed with the voice of Joyce Maynard that lives in my writer's head—Start Over. Back in my basement I stared at a blank Word document and agonized over these two questions: What is my IDEA worth sharing? Is this too much about ME? I studied my notes over and over, notes like this: The primary goal of your talk is to communicate an idea effectively, not to tell a story or to evoke emotions. These are tools, not an end in themselves. I tried to force my wandering way of writing into this neat TED outline:
Start by making your audience care, using a relatable example or an intriguing idea.
Explain your idea clearly and with conviction.
Describe your evidence and how and why your idea could be implemented.
End by addressing how your idea could affect your audience if they were to accept it.
I started over.
Three weeks out from the event, I ditched the whole Just Keep Swimming theme, switching to Why We Should Share Our Stories, and it all came together. I fine-tuned my words into a ten-minute speech to be followed by the five-minute dance, allowing for three minutes of the unknown to make it under the official 18 minutes allotted by TED. It was an idea worth sharing.
Then I began practicing. We had to memorize our speeches, no notes, no teleprompter, which was probably the most daunting part of the whole experience. I hadn't memorized anything in decades. I divided my speech into nine sections, highlighted key words, and imagined moving between three locations on stage, even though we were forbidden to step off the round red rug that is the hallmark of all TED talks. And I practiced everywhere I went. In every room in my house, while driving, while waiting in the parking lot for Isaiah to get a haircut, while waiting in the parking lot for Bella at dance, and, the best place of all—while swimming every day in the ocean. In the fall. In New England. In case you're reading this in the future.
On Saturday, two weeks before the event, I swam alone at Third Beach. It was forecasted to be the last warm day of the week and I didn't want to miss it in spite of ominous clouds threatening all around. "Let's pretend we're at a cocktail party," I said in my head as I swam down the shore to Peabody's Beach. I liked the idea of walking onstage with a glass of wine, just in case I needed it. Because, as I'd say, "I am Irish, after all." Every day in the ocean is different and even though the water had been crystal clear two days prior, the visibility was so poor I could barely see my hand. I turned around at the end of the beach and was returning along the shore, reciting the darkest part of my speech about Noah and Jonah's deaths, when all of a sudden the water turned black! I looked up to see that the clouds had grown to cover the sky and it was now raining, precisely fitting the mood of the story at that moment. I swam on.
A few days later, the air was a chilly 47 degrees but it was sunny with clear skies and the sea was calm. Billie and I headed into the ocean at Second Beach, also cold, but "once you're in, you're in" is our motto. We swam east through crystal clear water that always feels like a gift to me as I swim with a mask and snorkel and watching the bottom gives me something to look at. We swam all the way down to Sachuest Point, the furthest we'd ever gone this fall, and on the way back I was reciting the introduction to Epilogue, fittingly the final section of my speech. I was saying how you should share your stories because you never know where that path will lead and just as I recited, "it might simply be amazing!" I swam over a gorgeous pink jellyfish, probably a lion's mane, definitely a stinger, but beautiful. I stopped to admire it ballooning its slightly striped hood, tentacles moving gracefully below, and the timing could not have been more perfect. "Indeed," I thought to myself, "simply amazing!"
The next day, I swam with Sarah and finally got through my whole speech without forgetting any lines. My fingers and feet were numb but the water was clear, again, and pale green under a gray sky. Contrary to popular imagination, we rarely see anything more than water and seaweed when we swim in the ocean. So swimming over two quahogs feeding was a first for me. Ditto for three skates, their smooth silhouettes camouflaged by the sandy bottom, the second of which I came upon just as I was reciting a line about how, like sea glass, some day the sharp edges of pain will be worn smooth. These were magical moments and they all helped me memorize my speech, which I was definitely afraid I was going to forget as soon as I stepped on stage.
Friday, November 4, was the day before the event and my final rehearsal swim with Liz and Sarah. I was swimming along reciting to myself the news of Isaiah's birth when a small group of large, ephemerally pale fish darted past. And that was a perfect wrap. I was as ready as I'd ever be, although I truly wished I could swim my speech instead of standing on stage to say it. Because even in November, that was something that I knew I could do. Be brave and do hard things, I reminded myself.
After our swim, I put myself on "vocal rest" as if I were about to play Elpheba in Wicked, as opposed to reciting a ten-minute speech. But I'd been battling a scratchy throat for a few days so I skipped attending the final high school football game with my family thinking Chilly, night air! and stayed home to drink hot liquids, iron my clothes, and practice my speech in my bedroom, instead. I'd recently learned all about vocal prep from the book, Unnaturally Green, by Felicia Ricci that I dove into after seeing Wicked in September. Ricci is a member of the tribe who have played Elpheba, which, as she informed, is one of the most challenging female vocal roles to perform. From her, I also learned to eat a banana before my own "performances" and I had one ready to go for the morning.
In the weeks while I'd swam and recited my speech, I'd began dividing my life into BT/AT, before TED and after TED. BT I tried to clear my calendar as much as I could so I could practice, practice, practice. Halloween came and it's probably no coincidence that I colored my face green with some smelly old face paint I found in our Halloween costume box and attended a party as the real Elpheba, finding both Dorothy and the Scarecrow there, too. After TED I had plans to hear Ruth Reichl speak in Providence, then would come the election, then celebrating a combined 55th Birthday Bash with Andy and friends in Virginia, then Thanksgiving, Florida for my dad's birthday, Christmas in Chile—all easy and fun things I looked forward to but didn't allow myself to think about too much. Because that was all AT and Ted was not yet in my past.
But before we head into the final leg AT (yes, the end is near), I would feel remiss if I didn't mention that one of the interesting asides about this inaugural TEDxNewport event is that just recently the founder of TED, himself, Saul Wurman, sold his 13,000 square foot Newport mansion—The Orchard—for $2.5 million, which was a whopping 77% decrease in price from the $11 million it was listed for. The house boasted 16 bedrooms on either 4.75 or 8 acres, depending which news source you believe. All agree that it's located on the Cliff Walk, boasting killer ocean access and not one, but two outdoor pools, plus an indoor one, so plenty of swimming options that I sure hope someone is enjoying because I know I would.
So, why did Mr. TED, himself, practically give The Orchard away? In his words, "I love living in this house, and I'm not blasé about it at all, but this town is an intellectual wasteland without any sense of humor." Huh. "Hah," I want to say, followed by a really witty joke that even Saul wouldn't get at first. I imagine myself repeating it, even. "I live reclusively behind a fence," he admits, so it seems doubtful that he ever had any kind of visitors at all, never mind one or two smart and/or funny townspeople. I can't even tell you for sure where his house is located because he never invited me over for so much as a game of Marco Polo, never mind an intellectual discourse. In fact, I didn't even know he was a Newport resident for 17 years until he wasn't. Still, I can't help thinking that he might have enjoyed our intellectual wasteland's first ever TEDx talk. Right? He might have even found our ideas worthy of sharing.
It was an epic day, all in all. There ended up being 13 talks and mine was last, number 13, which is my lucky number after all so that was just fine. It was tough swallowing my nerves all day, almost eight hours, and I think I lost about five pounds in the process in case you're in search of a new way to lose weight. But I wore my red cowboy boots because they scream, "I am not afraid." You can't simper or shy away from a challenge with red boots on your feet. You must, as Micah says, "Be a warrior, not a worrier." One glance at your feet lets everyone know that you are there to kick some booty. And so, the minute I pointed my toes forward and stepped onstage with a glass of icy chardonnay in my hand, everything fell into place. "Let's pretend," I said, swimming right on through my speech with the black clouds, the pink jellyfish, the quahogs, the skates, and the ephemeral fish all awaiting their cues.
The spotlights were blinding and I couldn't see anyone so it felt like it was just me in my mask and snorkel anyway. Midway along, I actually reminded myself, You are not alone! So don't wander offstage or start talking about swimming or fish or something, okay? Because I have been known to digress, like I'm about to do right now . . . being suddenly reminded of the time back in those yurt days from paragraph two when I was practically hooked offstage at a FisherPoet's reading with strict time limits because I'd ad-libbed my introduction, rambling on and on about my night at the Elbow Room in Dutch Harbor, once called the second-most-dangerous bar on the planet, for so long that I didn't even get to finish my actual reading, appropriately titled Dam It. I left that event with my pride still in hand, albeit dripping through my fingers, while firmly clutching both the free t-shirt and the can of tuna they'd promised. Which is also when I started saying, "I'll do almost anything for a free can of tuna," even though the opportunity has yet to present itself anew.
I finished my speech forgetting only one passage, which was most likely the direct result of attempting to multitask by externally delivering a TEDx talk while internally reminding myself to pay attention. Nobody noticed, of course. It wasn't missed and made no difference in the end, although I'll share it with you now. As per my memorization method described above, it's from the fourth section, stage Left (which was actually red TED rug, Left), "We are very good (see how I did that? even though it didn't work) at sharing our joy in this society but not so great at sharing our pain. And the result is that when we find ourselves in those deep, dark places, we feel alone. And we wonder what's wrong with us. And we wonder why everyone else is having such a perfect life." There, now my speech is complete.
Safe to say that one of the happiest moments of my life was saying the actual completion of my speech, "Ladies and Gentlemen . . . Epilogue," then ripping off my head microphone (another first) and hurrying down the offstage stairs to join the audience. I settled into one of the ancient folding seats as the dancers took their places onstage. I sipped my wine with relief and joy bathing every nerve in every cell of my body in a cool, communal Amen! I wished time would simply stand still or at least stick a spotlighted placeholder on that moment so that it could be revisited over and over, world without end, as Bella, my niece, Ava, and my other incredible back-up dancers shared the gift of Epilogue one final time. I listened to the words I'd written and recorded, listened to my voice saying the names of my dead sons aloud in the Jane Pickens Theater where I'd watched movies with other people's voices for five decades of my life, and I was fulfilled. I marveled at this, the culmination of my talk, the final example of why we should share our stories—"Because it might just lead you to someplace that's simply amazing!" And I was, simply, amazed.
Now, at last, I can channel my inner Tim Urban. Now it is AT. The suggestion of Alicia and those 3 a.m. awakenings have been fulfilled. My dream has come true. I did it. And I did it with Hannah in the audience. And I did it with Bella and Ava and 14 other girls from my official school of 36 fish, and Miss Pam, the creative genius behind the whole story of Epilogue. I did it with a last-supper-worthy group of phenomenal speakers, all of whom have wise and witty ideas worth sharing and whom I'm so happy to know. We were the first, ever, after all, and I'm grateful for Alyssa and Meg and all of the brave and bold TEDxNewport brainchildren for all their hard work. I learned a great deal about a wide variety of subjects from plastics pollution to how chemo drugs are poisoning us all (yes); from how educational systems have and continue to fail us all to the timely truth about Touro Tower. I'm glad we don't have sex with horses any more. I'm in the market for some excellent art forgeries. And I'm happy that TED has created a place where people can take off their costumes and proclaim who they are and have always been, claiming their place as one of the four female speakers onstage for this brave new event in a town that is, indeed, worthy of meeting the challenges of its founder. Clearly, these are ideas worth sharing because I channeled the voices of the Leese sisters only one week after our event, saying with a tiny smile to a slightly injured soccer player in Richmond, VA, "It's a good thing you're tough." And so, like everything we do in our lives that is worthwhile, in so many, many ways, both foreseen and unforeseen, I am, indeed, so happy now that I have done a TED talk in my past!
K3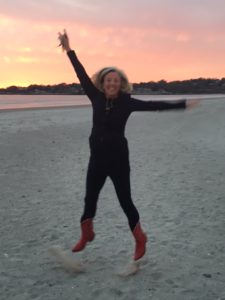 Me, AT, jumping for joy at Second Beach!
P.S.  Here's my official TEDxNewport bio, which is excellent, but also neglected to mention my chilling performance at Frosty Freeze . . .
Kelly Kittel
Marine Biologist, Author, Mom
Kelly is a Middletown High School alum with a Marine Affairs degree from URI. She served in the US Peace Corps as an environmental educator in rural Jamaica before beginning her career as a fish biologist. She spent time studying a variety of species and managing renewable energy projects from the Bering Sea to the Columbia River Basin and became a prolific writer on the subject. After a series of heartbreaking family tragedies, she took to writing as a form of healing; her novel Breathe won IPNE Awards for Best Book & Best Narrative Nonfiction and was received with praise and gratitude by so many struggling with grief of their own. Kelly is a mom of 5, currently living with her husband (who happens to be from Newport, Oregon) and their youngest two children on Aquidneck Island. Her talk, "Why We Should Share Our Stories", demonstrates how humans connect with each other when they share their experiences out loud, no matter how painful.